Activated Alumina Ball
Activated Alumina Ball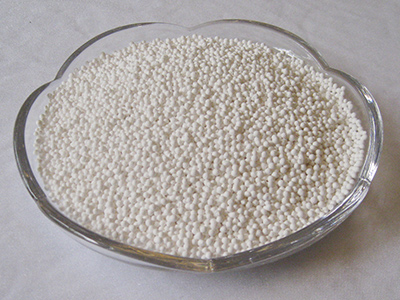 This product is white, spherical porous particles, has good adsorption performance, smooth surface, non-toxic, odorless, insoluble in water or ethanol, no crack after water absorption.
It also have a high mechanical strength, uniform particle size, distributing uniformly pore diameter, large pore volume, higher water absorption, small apparent density, good mechanical properties, high stability. It can be used for desiccant, catalyst cattier, defluorinating agent, variable pressure adsorbent, regeneration for hydrogen peroxide and etc.
The following is the technical indicators for sphere:
Item

Unit

Product Index

specification

m/m

Ф1-3

Ф3-5

Ф4-6

Ф5-7

L.O. I

%

≤7.0

≤7.0

≤7.0

≤7.0

BET

㎡/g

≥300

≥300

≥300

≥300

Pore Volume

ml/g

≥0.4

≥0.4

≥0.4

≥0.4

Bulk Density

g/cm3

≤0.75

≤0.75

≤0.75

≤0.75

Strength

N/a

≥100

≥150

≥180

≥220
Application:
1. Effective concentrated drier (for trace water), food desiccant (in drinking water), gas drying (in electronic industry), adsorption and drying (of automatic control instrument), desiccant and purifying agent (in fertilizer, steel and petrochemical industries), suitable for heatless and micro-heating regeneration devices;
2. Raw material for refractory industry, catalyst carrier (used in hydrogenation catalyst and dehydrogenation catalyst, etc), defluorinating agent (in drinking water, cyclic alkane in alkyl benzene production, oxygen-making industry, textile industry), gas drier (in electrical industry), adsorption and purifying agent (in chemical fertilizer, petrochemical and other industries);
3. Absorption (hydrogen chloride and sulfide in petrochemical aromatics production), filtration and adsorption (for water treatment, can remove the excess fluoride and arsenic in the water).